Caravan Salon Düsseldorf
August 25 at 10:00

-

September 3 at 18:00

CEST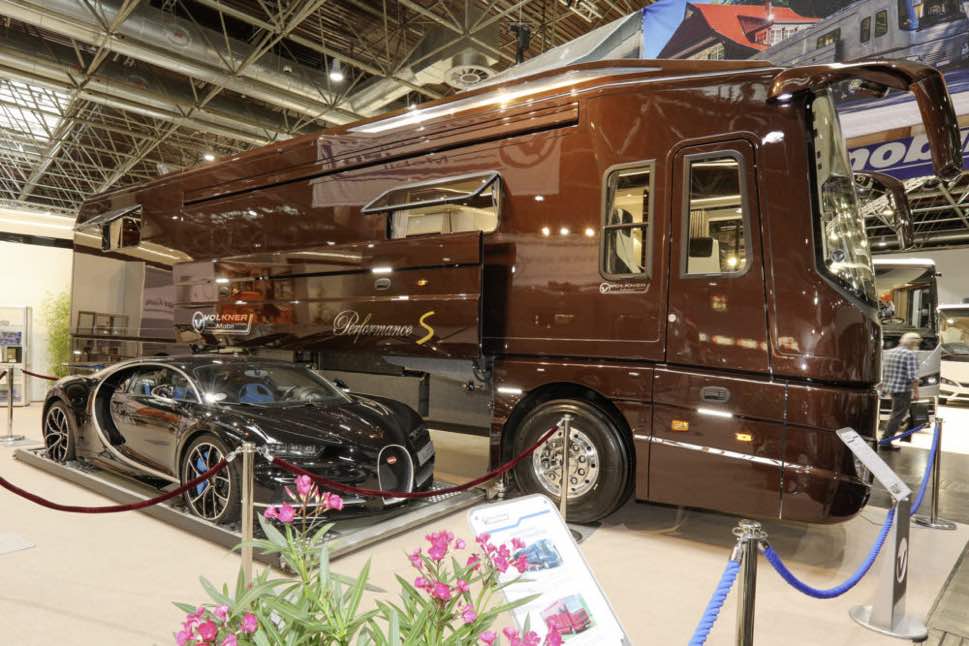 Between August 26 and September 3 2023 plus a more exclusive preview day on August 25, CARAVAN SALON turns Düsseldorf into the international capital of mobile leisure.
The world's leading trade fair is an excellent venue to discover, compare and buy motorhomes, caravans and campervans in such diversity. Experience vehicle technology, components and accessories, tents, mobile homes, caravanning and camping accessories, outdoor equipment, tourist destinations as well as camping and pitching offers too.
Grouped into six areas on 250,000 square metres in a total of 16 halls, the fair presents significantly extended ranges from almost 700 exhibitors this year, creating a selection that is globally unique. It is the only place for visitors to see a full line-up of brands and thereby enable such direct product comparison.
Motorhomes & Caravans
A unique and expansive selection of motorhomes and caravans is on display in Halls 1, 4, 6,7a, 9-12, 16 and 17. Discover perfect solutions to match an exponential increase in popularity of flexible outdoor lifestyles.
Campervans
The very popular world of both compact class and vanlife can be experienced in Halls 12 and 15. View a wide range of options to deliver independence in the great outdoors.
Premium
The sky is the limit in Hall 5, where the stage is set for luxurious vehicles, liners and off-roaders. Finest designs and highest quality materials unite to create imaginative premium vehicles.
Technology & Components
The first address for automotive technology, components and parts. Trends, innovations and novelties for the coming season can be viewed in Halls 13 and 14.
Travel & Nature
Discovering new destinations and combining mobile travel with regions offering outdoor activities is proving highly popular. Whether it's hiking, cycling or boat tours with canoes and kayaks, the great outdoors beckon and more and more people are heeding the call. In Hall 3.
The tourism sector is represented in hall 3 by a variety of fascinating and attractive destinations such as Australia, Croatia, Cyprus, Poland, Greece, Slovenia, Denmark and, closer to home, North Rhine-Westphalia.
Equipment & Outdoors
Equipment located in Hall 3 includes accessories, digital offers and services relating to caravanning are also presented. Discover awnings, roof tents, folding caravans, products for water treatment, camping furniture and much more.
Outdoors offers a range of equipment and clothing for all holiday and leisure activities, whether hiking, climbing, water sports or cycling. Camping articles and matching outdoor accessories can be bought directly on site in Hall 3.
E-Bikes
Caravanning is also particularly suited to exploring holiday destinations by e-vehicle and e-bikes. The e-Bike-Parcours in front of Hall 15 offers an ideal opportunity for visitors to try out the handling properties of e-bikes, e-scooters and e-cycles as well as eco-movers.
Digitalisation
Messe Düsseldorf has introduced a digital concept to CARAVAN SALON. The platform enables deeper research of brands and products and provides an interactive hall plan in English. Benefits of the platform include making prior contact to interesting presentations and arranging appointments at the fair.
The solution offers matchmaking, web sessions, video showrooms, a hybrid forum and virtual meeting rooms. The virtual platform enables interesting tourism lectures, online presentations with videos and virtual showrooms for people who cannot attend the fair in person.
Newcomers
Caravanning as a way of holidaymaking is delighting more and more people. New entrants and interested visitors can discover products and services tailored to their needs at the service-oriented and customer-friendly Starter World in hall 7.
In the unique space of Adventure DIY located between halls 5 and 9, several self-fitted recreational vehicles demonstrate possibilities. Themes such as module installation, layout planning, electrical installations, lightweight construction materials, water supply, workshop and material science as well as costs are addressed.
The Club
CARAVAN SALON Club, boot.club as well as ADAC and ARCD members receive discounts. Membership of the CARAVAN SALON Club is free of charge and offers all caravanning fans helpful information as well as useful bargain offers.
RV Park
In high demand for the duration of the fair, the Caravan Center on parking lot P1, becomes Europe's largest RV park with 3,500 fully serviced and unserviced pitches. Booking is only possible online following the purchase of entry tickets to the fair.
Safety
Motorhomes and caravans are especially emotional products that potential customers wish to experience up close. Caravanning as a form of holiday has been experiencing enormous and continuous growth in popularity for almost a decade. Indeed, the pandemic has once again strengthened the trend towards individual, self-sufficient holidays and regional travel. And on that topic, Messe Düsseldorf has long instigated and expanded upon a hygiene and safety concept for visitors, exhibitors and staff alike.
Entrance
Tickets should be bought online and are personalised. A day ticket from 10am to 6pm costs €18 regular, €15 reduced and €8 for children aged 6-12 yrs over the weekend or €16/€13/€6 respectively during the week. Tickets for the preview day are €35/€30/€8 and weekday afternoon tickets from 2-6pm are €10. CARAVAN SALON Club and Boot.Club members receive discounts.
By Messe Düsseldorf, story Vincent Green, Jul 14 2022